Flip Sides of the Same Coin
In Colorado's recently revised Competencies for Early Childhood Educators and Administrators, the Professional Development and Leadership domain includes three categories: Ethics and Codes of Conduct, Reflective Professional Development, and Advocacy. For the rational, click here. The competencies in the ethics category are defined pretty broadly, and professionalism isn't specifically addressed, so we're going to take a more practical approach here.
Professionalism Means 100% Awesome 100% of the Time
When you think about it, professionalism in early childhood covers a lot of ground. Even as a beginner, you have to know at least a little bit about everything related to early childhood, and demonstrate a commitment to professional development. Because the knowledge base, competencies, and professional development activities are covered in other areas of our website, we're going to present other aspects of professionalism. Click here to read about professionalism in attitude, relationships, boundaries, work habits, and attire.
Ethics Is Behavior Guided by Values, Ideals, and Principles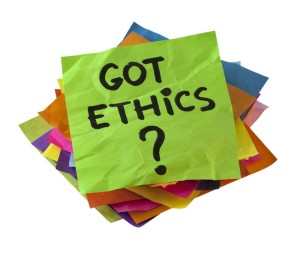 Ethical codes of conduct for any profession are based on doing the right thing according to the values, ideals, and principles of that profession. The National Association for the Education of Young Children (NAEYC) has  been the leader in defining values and ethical codes of conduct for early childhood professionals. Educators and administrators should have applicable copies of the NAEYC Code of Conduct and use these often to guide behavior and decisions. If you don't have them, you can download them here. Ethics represents much more than lofty, pie-in-the-sky ideals, however. The NAEYC Code of Ethical Conduct is a guide for making decisions about your behavior and actions in situations you face every day. It will help you make good decisions about what actions to take in complex situations. For questions and answers about the daily use of NAEYC's Code of Ethical Conduct in real-life situations (from the professionals who wrote the book Ethics and the Early Childhood Educator), click here.
Click here to read more examples of ethical dilemmas and ways that NAEYC's Code of Ethical Conduct can help you think about and decide on actions.
Click here to read about ethical issues when using electronic communication and social media.
These situations are tough to figure out, and we encourage you to seek input from your supervisor, director, or another respected early childhood professional in our community, such as coaches, or trainers. Even experienced professionals need to reflect on these complex processes and discuss solutions with others. Get the help you need to be successful and proud of your decisions.