REGISTRATION IS OPEN
Join us for the Fort Lewis SW Early Childhood Annual Conference with Keynote Speaker Miriam Beloglovsky!
WHEN: Saturday, Feb. 26th, 2022 @ 8:45 a.m.
WHERE: Your Computer (this is an online event)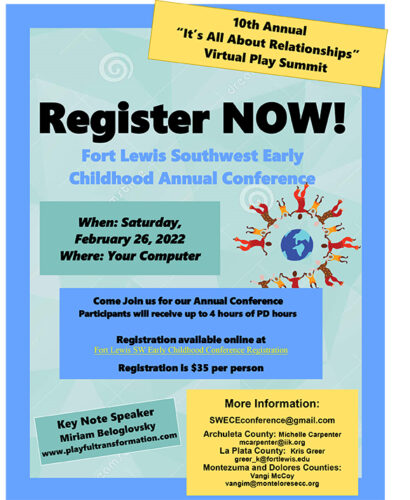 Connect with other ECE professionals in Southwest Colorado and earn up to four professional development hours!
The registration link is below. You will get zoom links before the conference! For more information contact: SWECEconference@gmail.com.
---
Members of the Montelores Early Childhood Council believe that the first years last forever. We envision a community in which kids have healthy, nurturing early family and education environments; families and early childhood professionals have the supports they need to promote healthy development; and all community members work together to make this vision a reality.
Our website has resources for families, early childhood professionals, and employers. We hope it will inspire you to join with us to make our community a better place for our youngest citizens and their families. Here is what one young mom recently wrote to us about the work we do:
"Well, as a mother of a little one, and as a parent who works and raises a child in this community, I cannot thank you all enough for the work you do. It's tremendously important, but you already knew that! My daughter and I are blessed to know you. You guys are literally SAVING THE WORLD."
Community Resource Directory
View MECC's online directory of resources for families in our community.