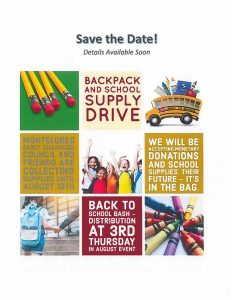 It's in the Bag Backpack Drive is revving up for a new season. The Montelores Early Childhood, Cortez Retail Enhancement Assoc., Marketing and Events of the City of Cortez, and the Cortez Public Library are partnering to bring kids a backpack of school supplies, books and socks. We would also like to offer back-to-school haircuts.
We are in need of monetary donations, socks, and hair stylists who like to donate their time for a good cause. We will be posting drop off locations and wish lists soon!
The backpack giveaway is slated for Thursday, August 16, from 5 – 8 p.m. at the 3rd Thursday Market in Montezuma Park on the corner of Montezuma and Market streets.
Ways to Get Involved
Help us reach our goal of raising $2,500!