Encouraging Your Child's Learning and Development
You are your child's first and most important teacher. From you he or she will learn about things like your family, its culture, and values; how to love and be loved; how the world works; getting ready to learn in school; the importance of caring about others, and so many other things. Being a parent is a big responsibility, and all parents have questions about it: what to do, whether you're doing the right thing at the right time, whether your child is on track with development, how to help your child get ready for kindergarten and school, etc. There are about 1900 days between when your child is born and when he or she will go to kindergarten and we hope we can help you make each day important.
For ideas about how to encourage your baby's learning and development, you can ask your pediatrician or family health care provider, your child's early care provider, or one of the child development professionals in our community. Our local libraries have books and resources for parents and children. For more information, click here. You might also want to look at some online resources. Our favorites are below.
The American Academy of Pediatrics has an easy-to-use website for parents that covers everything you'll need to know about your child from prenatal development through young adulthood, including what your child should be doing at different ages, and what you can do to foster early learning and development.
The National Association for the Education of Young Children (NAEYC) For Families website is another great resource. It's organized into topics with articles and videos about each topic.
The Centers for Disease Control's website has a section called Positive Parenting Tips, with developmental milestones for age ranges from infancy through late teens, and tips to encourage development. You can also download and print 1 page checklists for various ages from 2 months to 5 years.  Click here to download a brochure that summarizes milestones and tips.
MECC promotes guidelines in its programs that are similar to those in these resources.
Provide responsive care
When you and other important adults learn to read your baby's cues and respond to them in a way that lets the baby know you understand them, you are providing responsive care. Click here to view PDF.
Sing, talk, and share books with your child beginning in infancy
In the 5 years between birth and kindergarten your child needs to hear 1000 stories in order to be ready to learn in school! Click here to view PDF.
Play with your child
Playing sounds simple but many grown-ups have forgotten how to play. There are many important things for us to re-learn about play. Click here to view PDF.
Help your child be ready for school
MECC is committed to help the children in our community be ready to learn and make a good transition to kindergarten. For more information on what you can do to help your child be ready for school, click here.
---
Play a role in getting children off to a great start!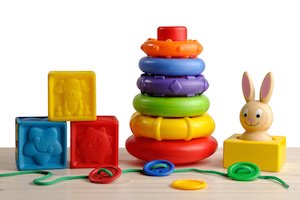 Click here to learn how Colorado's Early Learning Guidelines can help.